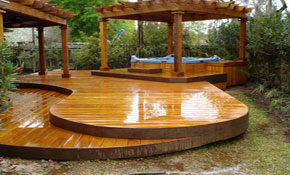 Decks are typically flat, wooden surfaces, usually raised above the ground, and attached in some way to an existing building. Decks can be a wonderful addition to any home, providing a space for parties, barbecues, outdoor meals, or convenient sunbathing. If you have the space to add a deck to your residence, it can be a rewarding and multi-functional extension to your family life.
The design of your deck is only limited by your creativity, and there are many different choices to make in the construction of a deck. Experienced carpenters like ours at R2 Construction Inc. can help you custom design the deck of your dreams, and then build it right before your eyes.
When designing a deck, considerations like amount of different levels, type and hardness of the wood, stain color, railing style, number of access stairways, and a laundry list of other decisions must be taken into account. It can be a daunting task to design a deck, so professional advice and a seasoned carpenter is a must.