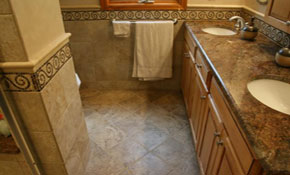 Giving your house a new, fresh look can be a fun and exciting project for homeowners. As times change, so do styles, and home makeovers are a popular way to keep up with modern trends in interior design. Also, as families change and grow, certain areas of the home need to be altered to accommodate more people and different activities.
Kitchens and bathrooms are a specialty of R2 Construction Inc. and we have the selection and skills to help remodel some of the most important rooms in your home. Do you want to add a second sink to your master bathroom? Do you desperately need more cabinet space in your kitchen, or an updated look to your appliances and kitchen décor? There are hundreds of interesting and attractive options to update the look and feel of your home, but professional guidance can make the project a lot easier to tackle for the average homeowner.
With R2 Construction Inc., you can custom design your countertops, cabinets, and countless other aspects of your bathroom and kitchen remodeling work to perfectly fit your needs and wants.