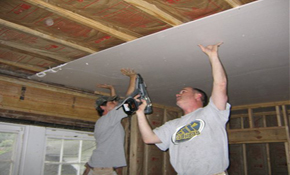 Sheetrock is the common term for drywall, plasterboard, or gyproc. Quite simply, sheetrock is the material that forms the majority of interior walls and ceilings in homes, businesses, and commercial structures. Sheetrock is made by pressing two thick pieces of paper or fiberglass on either side of an inner core made of plaster. Once this three-part material is dried, it becomes solid and stable enough to use for a variety of construction needs.
Sheetrock is a popular choice all around the world, because it is relatively easy to manufacture, and is a big improvement over the older techniques of lath and plaster. Depending on the type of sheetrock you choose to install, you may be able to get additional benefits such as
• Increased Fire Protection
• Soundproofing
• Moisture Resistance
• Mold Resistance
• Energy Efficiency
Whatever your needs are in terms of sheetrock, R2 Construction Inc. can advise you on the right choice, and install it quickly and professionally during any type of renovation or construction project.