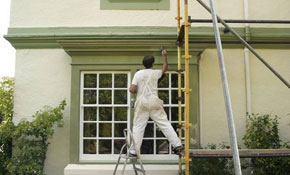 To put it plainly, paint is what gives color to our lives. Anywhere you go, the walls that you see are most likely painted. Therefore, choosing the type of paint for a home, office, or commercial location is very important! R2 Construction Inc. can offer advice on painting options, as well as the skills to insure that your painting project is done quickly, professionally, and exactly as you wanted.
Paint is any liquid, or liquefiable substance that changes into a solid layer or film after it is applied to a surface. So, whether the purpose is interior or exterior painting, custom designs, detailed work, or large commercial spaces that need some color, a lot of choices need to be made. With paint mixing advances in recent decades, paint can come in any color or shade imaginable, and the variations on the types of paint are almost as numerous.
Would you like a glossy finish to show off high quality or detailed work? Or do you want a basic matte finish which can hide imperfections on walls and ceilings? Do you want to varnish or shellac as an outside coat to provide protection? There are so many questions when it comes to painting, it is important to speak with a professional before undergoing any job, whether big or small. The expertise you will find with us at R2 Construction Inc. will help you take care of all your painting needs, and we offer a variety of services and products so you can always make the right choice for your project.