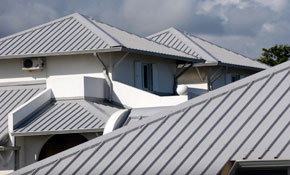 Metal roofing is an option which more and more people are choosing every year. There are many advantages to metal roofing that make it a very attractive choice. Metal roofs are versatile and can be designed to look like other materials such as shingles or slate, for those who want the benefits of metal roofing without the appearance.
Metal roofs are also superior to other types of roofing materials because they are durable, and their design allows them to take a beating in extreme weather, as well as support large amounts of weight for those who live in areas of heavy snowfall. Insurance companies also tend to favor homes with metal roofing, so you can see a real return on your investment.
Lastly, choosing metal roofing also involves you in the Green Revolution taking place throughout the world, because metal roofing is energy-efficient and environmentally friendly. The reflective nature of metal roofing helps keep your energy costs down, making metal roofs the obvious choice for eco-minded individuals.