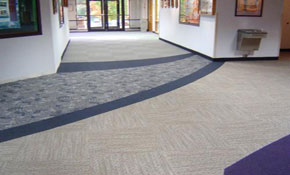 Carpet is a perennial favorite for floors for a number of reasons. It is soft to the touch, often made from wool, nylon, or polyester, and consists of two parts, the "pile" (soft area) and the backing, which attaches to the subfloor. Carpets come in nearly every variety of material, thickness, color, design, and texture, all dependent on your individual needs.
Carpet is popular in homes as it gives a more comfortable feel, without the maintenance needs of a laminate floor, or the uncomfortable temperature variations of wood and tile flooring. It is also good for children and pets, as it hides dirt and wear better than the other flooring options until it is vacuumed or professionally cleaned.
Carpeting is also popular because of the ease of installation, even on oddly shaped floors where other types of flooring may require more work and time. Carpet has a long, international history and is a popular choice for flooring all across the world.