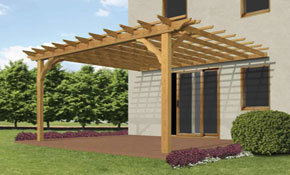 A pergola is an overhead terrace that forms a kind of walkway beneath it, protecting against some weather and providing shade. They can form a connecting walkway between different areas of an outdoor space, or can act as sitting areas for outdoor dining or relaxation.
The form is usually composed of vertical support beams on the sides supporting an open, lattice-style "roof" on which plants can be grown. Climbing or woody vines are very popular additions to pergolas, and depending on the location and design of the pergola, it can be a beautiful complement to a finished backyard or an open air dining space.
The designers and construction experts at R2 Construction Inc. can assess the different possibilities for adding a pergola to your property and recommend the best options that will fit your style and your budget.