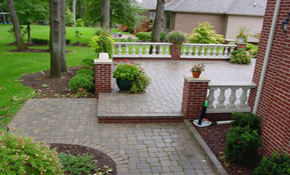 Patios are outside spaces which are paved and decorated for recreational use, outdoor dining, or as a connecting area between a home and a backyard or garden. Patios are similar in function to decks, but they are normally on ground level, and are made of stone, concrete, or brick.
Depending on your budget, the size of the space, the intended function, and the decorative style of the existing structure, there are countless ways to design and install a patio. Most patios are composed of large concrete slabs, which are cheaper than natural stone versions, but others who want a more intricate design or an aesthetically pleasing appearance choose smaller brickwork which can be more complex and artistic.
The team at R2 Construction Inc. will be happy to advise you on all the details of your future patio, help you choose the ideal materials, and then install your patio to your exact specifications.