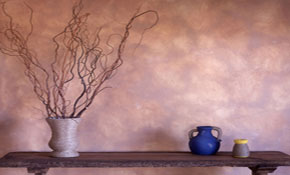 Many people want to take their basic painted surface to the next level of style and quality with custom painting like faux finishes or custom glazes. These techniques can add a depth and complexity to the painted surface that really completes the decorative style.
Faux painting is the name for a number of decorative techniques that can be applied as a finish on top of a painted surface. A few of the examples which R2 Construction Inc. is able to offer you are:
• Graining – the painted surface can resemble the grain of wood paneling.
• Fresco – the surface has a mottled color and textured elements
• Marbleizing – the painted surface has the reflective qualities and appearance of marble.
• Ragging/Sponge Painting – Different textural patterns or shapes in random or custom designs can be applied to the painted surface.