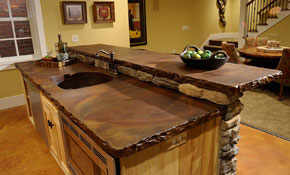 Kitchens are often considered the heart of the home, so a functional and convenient set-up is important for the room where so much time is spent. Countertop styles have changed dramatically over the past few decades, and the options for remodeling are endless.
Some popular choices for new styles in kitchen design include free-standing islands, either purely as a workspace, an area for dining, or a unique location for sinks and stovetops. For people who love cooking, the addition of integrated cutting boards, storage space, drainage racks, or a second cooktop can make your favorite hobby even easier.
For bathroom remodeling, countertops can be custom designed to include additional sink space and counter surface area. The choice of materials is also an important decision for both kitchen and bathroom remodels. Some of the most popular choices are:
• Natural Stones - Granite, Limestone, or Marble
• Mineral – Quartz
• Metals – Stainless Steel, Aluminum
• Wood – Hardwood, Softwood
Whatever style, concept, or materials you imagine for your perfect remodeling project, the experts at R2 Construction Inc. can help you make the right choices, and complete the installation quickly and professionally.